We are honored to have you speaking at the 39th Annual's Pacific Rim International Conference on Disability & Diversity. Our theme this year, Beyond Access: Building a Culture of Belonging, invites us to consider what we can do to help create spaces and places where each of us can fully contribute to the communities we are part of, while receiving the support and accommodations we need to flourish. We invite you incorporate this idea of Building a Culture of Belonging into your address as you feel appropriate. This short guide provides you with some general background and logistical information about the conference that may be helpful. And if you have any questions or concerns, please feel free to reach out.

Dr. Holly Manaseri, Conference Chair
hmanaseri@hawaii.edu
39th Annual Pacific Rim International Conference on Disability & Diversity

The Premier International Gathering on Disability – Our 39th Year! Hosted by the Center on Disability Studies (CDS), College of Education, University of Hawaiʻi at Mānoa since 1988, Pac Rim has evolved into an international conference that has welcomed thousands of presenters & attendees from across Hawaiʻi, the nation, and the world.
The conference brings together policymakers, academics, people with disabilities and their families, advocates, students and entrepreneurs, and other folks from around the world to share ideas about improving the lives of those with disabilities.
Tuesday, February 27 and Wednesday, Feburary 28, 2024 HST (Hawaii Standard Time)
Please check your preferred communications for your individual session time.
We will welcome you at the Information Desk (near the Pa Kalihi Courtyard, Level 3).
Please see the floor map below for specifics.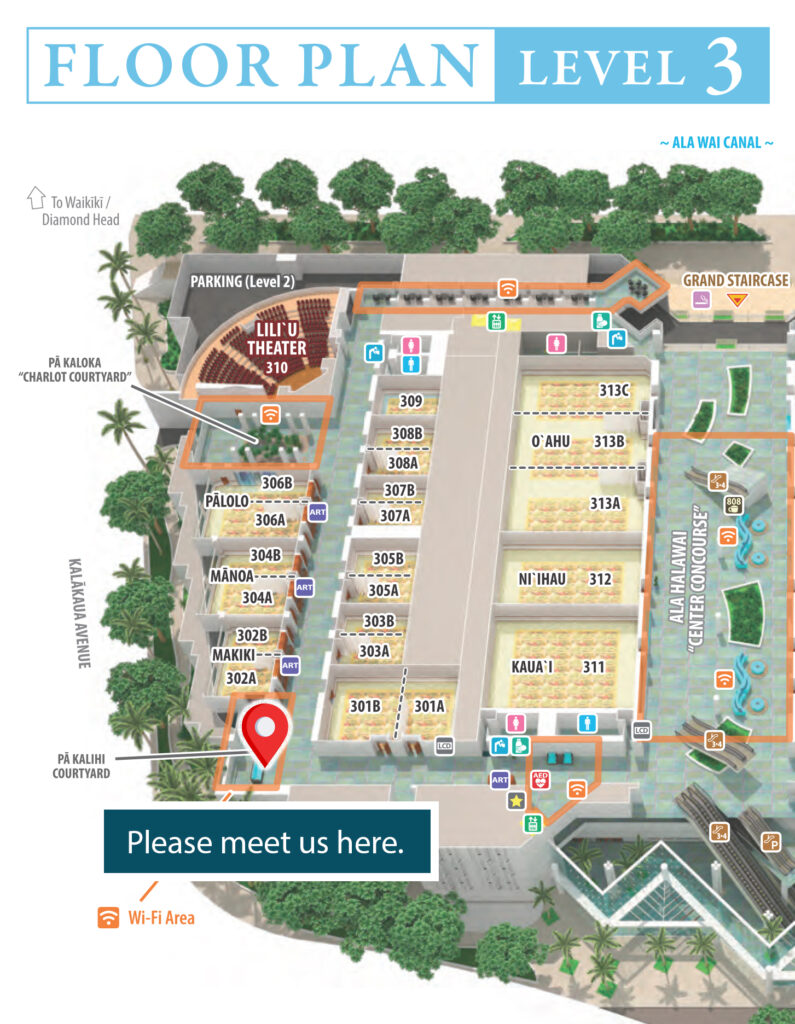 Tuesday, February 13, 2024
Please turn in your presentation slides by Tuesday, February 13, 2024.
Tuesday, February 27 and Wednesday, Feburary 28, 2024
Main In-Person Conference Days
Accessibility Requirements (Slides / Visuals)
You may include slides, screen recording, and/or video. Given fluctuations of network conditions, we strongly advise that any media be offline and run locally off your device. We are happy to assist if you need to ready media to have available.
Please utilize large fonts. On any slides, use larger fonts for easy readability. Use font size 14 or larger.
Color combinations. For better readability, please use a high contrast combination for slides with text. Here are some resources:
Information on color combinations:

Accessibility Requirements for Presenting
Please give a verbal description of your own appearance as you begin speaking, e.g., "I am a woman with long black dreadlocks and pink glasses wearing a flowered shirt, and I am sitting in front of a large antique clock."
If there are graphics on your slides that are key to your presentation, please describe them, e.g., "There is a picture of a woman on the beach in a wheelchair. She is wearing a hat, sunglasses, tank top, and shorts." (You do not need to describe graphics that are for only for decorative purposes and are not key to your presentation content.)
Each presentation will also include sign language interpretation by a 3rd party professional. This means someone will be signing everything you say as you say it.
Dr. Maya Matheis, mmatheis@hawaii.edu
Dr. Naomi Rambaoa Tanaka, nrombaoa@hawaii.edu
Presenter Submission or Social Media
Genesis Leong, prcall@hawaii.edu
Dr. Raphael Raphael, rraphael@hawaii.edu
Richard Tran, rtran3@hawaii.edu
Dr. Holly Manaseri, hmanaser@hawaii.edu