Automatic Captioning for Presenters
Live presenters at Pac Rim are required to use automatic captioning during oral presentations in an effort to increase accessibility for attendees. Automatic captioning can transcribe your spoken words as you present and display them on-screen as captions. This can help accommodate individuals in the audience who may be deaf or hard of hearing, or more familiar with another language, respectively.
Update your software (e.g., PowerPoint, browsers) to the latest versions.

Make sure your computer is connected to the conference wifi.

Use a computer with a built-in or external microphone and make sure it is set as your sound in-put source (they will pick up the audio amplified by speakers in the conference rooms) in your computer's system preferences or control panel.

Test captioning before you begin your presentation. 

Speak slowly and deliberately. 

Repeat audience questions into the microphone to allow for captioning.

If showing videos, make sure they have subtitles. 
Users with a Microsoft 365 account have access to auto captioning through PowerPoint. If you are using a Windows PC, you will need Windows 10 or 11 and Microsoft 365. Macs will need Microsoft 365 with PowerPoint. This feature is also available through PowerPoint for the web using Chrome, Edge or Firefox. Please reference Microsoft's tutorials for more information. 
On the

Slide Show

ribbon tab, select

Subtitle Settings

. 

In the

Slide Show

ribbon tab, click the box next to "

Always Use Subtitles

" to have auto-captions always start up when a Slide Show is presented.

In the

Subtitle Settings

menu, set the desired position of the captions or subtitles. They can appear over the top or bottom margin of the slide (overlaid), or they can appear above the top or below the bottom of the slide (docked). The default setting is

Below Slide

. 

Mac users may need to grant PowerPoint access to the computer's microphone. To do this, click on

  → System Preferences → Security & Privacy  → Microphone. Click the "checkmark" next to Microsoft Powerpoint to allow access

If you're in the middle of giving a presentation and want to turn the feature on or off, click the

Use Subtitles

button in Slide Show mode, on the toolbar below the main slide. You can also toggle them on and off by pressing "

J

" when in presentation mode.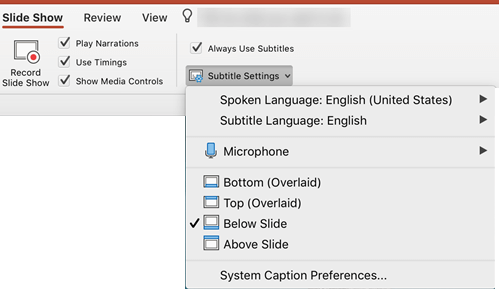 Google Slides Instructions
Users with a Google account have access to automatic captioning through Google Slides. This works with the latest versions of Chrome, Firefox, Edge, and Safari browsers. Please reference this Google support page for more information.
With your presentation open in Google Slides, start presenting by clicking the "

Slideshow

" button in the menu bar.

Use your cursor to

hover

over the bottom left corner of the Present window to find the

menu button

, which looks like three dots in a column (

).  Click this button.

Click:

Captions preferences

→

Toggle captions.

You can also use

keyboard shortcuts

to toggle captions on and off (Windows: Ctrl + Shift + c; Mac:  ⌘ + Shift + C)