Judith Ellen "Judy" Heumann
Disability Rights Advocate
Judy Heumann is a lifelong advocate for the rights of disabled people. She has been instrumental in the development and implementation of legislation, such as Section 504, the Individuals with Disabilities Education Act, the Americans with Disabilities Act, the Rehabilitation Act, and the UN Convention on the Rights of Persons with Disabilities.
Her memoir,"Being Heumann: An Unrepentant Memoir of a Disability Rights Activist," co-authored by Kristen Joiner, was published in 2020. She is also featured in the Oscar-nominated documentary, Crip Camp: A Disability Revolution, directed by James LeBrecht and Nicole Newnham. Judy produces a podcast called The Heumann Perspective, which features a variety of members from the disability community.
Judy serves on a number of non-profit boards, including the American Association of People with Disabilities, the Disability Rights Education and Defense Fund, Humanity and Inclusion, Human Rights Watch, United States International Council on Disability, and Save the Children. She has 20 years of non-profit experience working with various disability organizations, including being a founding member of the a founding member of the Berkeley Center for Independent Living. Prior to starting Judith Heumann LLC, she served in the Clinton and Obama administrations.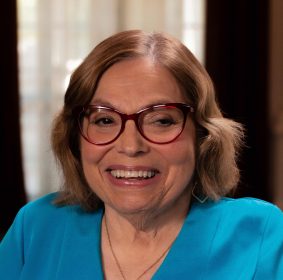 Dr. Jonathan Kamakawiwoʻole Osorio
Hawaiʻinuiākea School of Hawaiian Knowledge
University of Hawai'i at Mānoa
Dr. Jonathan Kay Kamakawiwoʻole Osorio is Dean of Hawaiʻinuiākea School of Hawaiian Knowledge. Dr. Osorio received his PhD in History from the University of Hawaiʻi. At Kamakakūokalani, he has developed and taught classes in history, literature, law as culture, music as historical texts, and research methodologies for and from indigenous peoples. His recent publications include The Value of Hawaiʻi: Knowing the Past and Shaping the Future, which he co-edited and authored, and Dismembering Lāhui: A History of the Hawaiian Nation to 1887. He is also a composer and singer and has been a Hawaiian music recording artist since 1975.
Chief Relationship Officer
As the first Deaf executive to serve in Sorenson's C-suite since the company's founding 20 years ago, Lance Pickett brings rich experience to his role as Sorenson's Chief Relationship Officer. 
Born Deaf into a family with both Deaf and hearing members, Lance has spent his life negotiating both cultures, communication, and communities. 
Lance began his career with Sorenson as a trainer, installing videophone equipment in customers' homes, then rapidly advanced to director of technical support for Sorenson Relay Service. After 13 years, he was promoted to marketing vice president, where he was responsible for all consumer acquisition and retention marketing, branding, corporate communications, B2C marketing and sales support, and product development. He spearheaded initiatives that drove record social media and community engagement; lobbied Sorenson's positions to the FCC, political representatives and community advocacy groups; and consulted and collaborated with product development and design teams to ensure optimal user experiences across all of Sorenson's modern, customer-focused platforms and hardware.
In his current position, Lance draws upon expertise developed over years serving in these various Sorenson roles as well as his extensive, first-hand experiences in the Deaf, hearing, and hard-of-hearing communities. He understands and supports Sorenson's focus on DEI, innovation, consumer protection, and compliance. More recently, Lance leads Sorenson's Ambassador program which nurtures new and established relationships as Sorenson evolves to connect even more people worldwide using the company's accessible and inclusive services.

Executive Vice President, Global Workplace Initiatives
Leslie has consulted with hundreds of companies to create disability inclusive workplaces. In her role as Disability:IN's EVP, Global Workplace Initiatives, she leads the Inclusion Works team. Inclusion Works subject matter experts provide customized disability inclusion consulting & facilitated sharing of best practices among 116 participating companies. Since its inception with 6 companies in 2014, corporate participation has grown over 18K% and Inclusion Works companies have hired 250,000+ new employees with disabilities.
Leslie also leads Disability:IN's Global Initiatives with the Disability:IN team and hundreds of corporate representatives on the Global Roundtable and Regional Councils in APAC, EMEA and LATAM.
She is an experienced Project Manager, ATD certified trainer, formerly certified as a Mental Health First Aid Instructor, and expert on Section 503.
Association of University Centers on Disabilities (AUCD)
John Tschida, MPP, is the executive director of the Association of University Centers on Disabilities (AUCD). He has spent more than 20 years using data and research to drive policy change and service development for individuals with disabilities. Before joining AUCD in February of 2017 as associate executive director, he was appointed as director if the National Institute on Disability, Independent Living, and Rehabilitation Research (NIDILRR) at the U.S. Department of Health & Human Services. NIDILRR is the federal government's premier applied research agency impacting individuals with disabilities.
Prior to joining NIDILRR in 2014, he served as director of public policy and innovation at Allina Health in Minnesota, where he helped integrate medical and community-based services for people with disabilities. At the Courage Center, Minnesota's leading nonprofit provider of rehabilitation services, Mr. Tschida was vice president of public affairs and research. There, he built and directed a public policy and research team that focused on defining and achieving better outcomes for people with disabilities. He also led a statewide, cross-disability legislative coalition of more than 100 provider and advocacy organizations.
Mr. Tschida, who has lived with a spinal cord injury since 1993, has a master's degree in public policy and a health services research certificate from Georgetown University, and a bachelor of arts from Macalester College.
Project Ho'oku'i V: Kulia i ka Nu'u
Misty Kela'i works for Project Ho'oku'i V: Kulia i ka Nu'u as the project liaison between Native Hawaiian Student Services and Project Ho'oku'i. She is a former singer for the Royal Hawaiian Band, and holds a Bachelor's degree in music.  Additionally she dances for a Hula Halau and was a cabinet member for former Honolulu City Mayor Caldwell. She served 8 years under Mayor Caldwell as the Director of Native Hawaiian Culture and Arts.