(K)new Ideas for Our Collective Emergence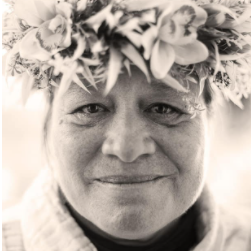 Zoom: https://hawaii.zoom.us/j/8089682209
The pandemic has been described in drug terms as: non-specific amplification, where the feeling of overwhelm is everywhere, and with no ending in sight. Indigenous people see it differently. We see this as a time of discipline, where effulgent coherence is the practice found in aloha mai, aloha aku – in the simultaneity and electricity of aloha. It is in our world-view. It is how we will evolve. Aloha is the primal source of our collective emergence. Come explore this idea within Hawaiian values, principles, and vibrations. Come to understand the purpose of conflict within these radical and mythic times.
Speaker
Dr. Manulani Aluli Meyer

International Indigenous Scholar-Practitioner, University of Hawaiʻi West Oahu

University of Hawaiʻi West Oahu

Manulani Aluli Meyer is the fifth daughter of Emma Aluli and Harry Meyer who grew up on the sands of Mokapu and Kailua beach on the island of O'ahu, and along the rainy shoreline of Hilo Palikū. The Aluli ohana is a large and diverse group of scholar-activists dedicated to Hawaiian education, restorative justice, land reclamation, health+healing practices, cultural revitalization, arts education, prison reform, transformational economics, food sovereignty, and Hawaiian music. Manu works in the field of indigenous epistemology and its role in world-wide awakening. Professor Aluli-Meyer obtained her doctorate in Philosophy of Education from Harvard (Ed.D. 1998) and has taught at UH Hilo, Te Wānanga o Aotearoa, and UH West Oahu. She is dedicated to Indigenous food security and works to bring the coconut back into daily use. She is a 30+ year practitioner of hoʻoponopono who appreciates and learns from the purpose of conflict.